The air handler is the indoor component of a heat pump system. It includes the fan and the heating/cooling coil. The air handler is designed for a particular refrigerant, so it must be matched with the heat pump or air conditioner.
We offer many air handlers with variable and multi-speed features that can provide enhanced indoor comfort by slowly ramping up to your thermostat setting rather than simply turning on at full speed. This alleviates the "cold air blow" often associated with single speed air handlers, and dramatically reduces system noise.
Air Handler Product Offering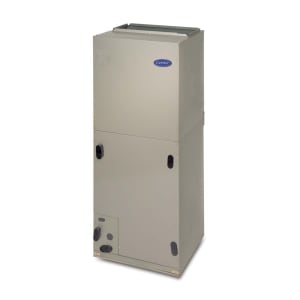 Comfort™ Fan Coil
View Brochure
Model Family: FX4D
Refrigerant Type: Puron®
Blower Motor: Multi-Speed
Factory Warranty Parts: 10-year parts limited warranty
Manufacturer's Stated Benefits:
Fixed speed model is energy efficient with savings of 2% to 3% in cooling costs.
Designed to match with environmentally sound Puron® refrigerant.
Equipped with a Thermal Expansion Valve (TXV).
10-year parts limited warranty when properly registered.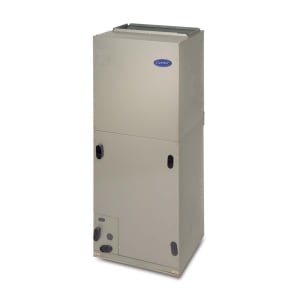 Performance™ Fan Coil
View Brochure
Model Family: FV4C
Refrigerant Type: Puron®
Blower Motor: Variable-speed
Factory Warranty Parts: 10-year parts limited warranty
Manufacturer's Stated Benefits:
Thermostatic Expansion Valve (TXV) refrigeration management maintains proper flow to help insure reliable, efficient operation
Sloped, corrosion-free drain pan design helps reduce mold and bacteria build-up
Air purifier and humidifier compatible
Fully insulated cabinet
Advanced temperature control
Ultra low power consumption during fan only operation
Supplemental, electrical-resistance heating packages available for field installation
Optional ArmorCoat™ tin-plating enhances corrosion resistance
Washable air filter
Recommended control: Performance Edge® relative humidity thermostat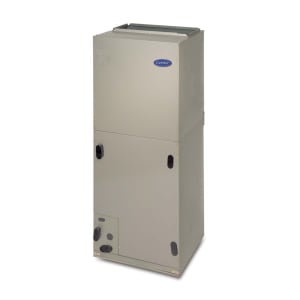 Infinity® Fan Coil
View Brochure
Model Family: FE4A
Refrigerant Type: Puron®
Blower Motor: Variable-speed
Factory Warranty Parts: 10-year parts limited warranty
Manufacturer's Stated Benefits:
Thermostatic Expansion Valve (TXV) refrigeration management maintains proper flow to help insure reliable, efficient operation
Sloped, corrosion-free drain pan design helps reduce mold and bacteria build-up
Air purifier and humidifier compatible
Infinity intelligence enables self-configuration and easy troubleshooting with Infinity control
Fully insulated cabinet
Advanced temperature control
Ultra low power consumption during fan only operation
Summer dehumidification is blower motor enhanced
Supplemental, electrical-resistance heating packages available for field installation
Optional ArmorCoat™ tin-plating enhances corrosion resistance
Washable air filter
Recommended control: Infinity control