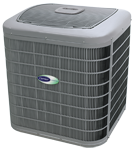 Heat pumps are a great solution for your home comfort system because they work to provide both heating and cooling. Heat pumps have SEER ratings like air conditioners and Heating Seasonal Performance Factor (HSPF) ratings for measuring heating efficiency. Higher SEER and HSPF ratings mean greater energy savings.
Heat pumps are a very efficient alternative to electric heat. A heat pump works the same as an air conditioner in the summer, but it runs in reverse in the winter to heat your home. The system will be matched with a backup heating source, most often electric heat for those extremely cold days of winter.
Just like our air conditioners, many of our heat pumps have advanced features, such as 2-stage compressors and variable speed fan operation. These features not only improve the comfort level of your home, but can provide additional energy savings as well.
Heat Pump Product Offering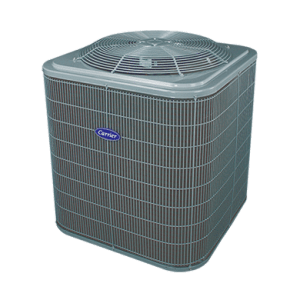 Comfort™Series 14 Heat Pump
View Brochure
Model Family: 25HCE4
Efficiency SEER/SEER2: 14 SEER
Efficiency EER/EER2: Up to 12.2 EER
Efficiency HSPF/HSPF2: Up to 8.5 HSPF
Energy Star Rated: N/A
Sound Level: As low as 69 DBA
Refrigerant Type: Puron®
Compressor: Single-stage scroll compressor
Factory Warranty Parts: 10-year parts limited warranty when properly registered.
Factory Warranty Compressor: 10-year compressor limited warranty when properly registered.
Manufacturer's Stated Benefits:
Filter drier system protection from moisture and contaminants
WeatherArmor™ protection
Heavy-gauge, galvanized steel construction
Baked-on, durable powder coat paint
Dense-wire coil guard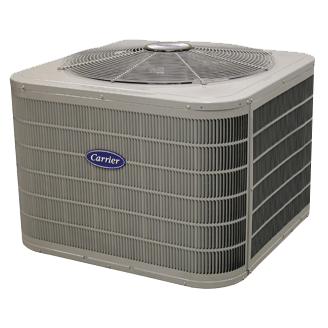 Performance™ Series 16 Heat Pump
View Brochure
Model Family: 25HPB6
Efficiency SEER/SEER2: 16.0 SEER
Efficiency EER/EER2: 13.0 EER
Efficiency HSPF/HSPF2: 8.5 HSPF
Energy Star Rated: ENERGY STAR®
Sound Level: As low as 67 DBA
Refrigerant Type: Puron®
Compressor: Single-stage scroll compressor
Factory Warranty Parts: 10-year parts limited warranty
Factory Warranty Compressor: 10-year compressor limited warranty
Manufacturer's Stated Benefits:
Good cold weather performance
Filter drier system protection from moisture and contaminants
WeatherArmor™ Ultra protection
System protecting high pressure and loss of charge switches
Heavy-gauge, galvanized steel construction
Compressor sound blanket
Baked-on, durable powder coat paint
Steel, louvered coil guard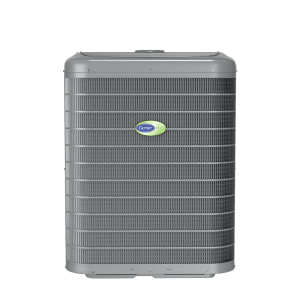 Infinity® 24 Heat Pump
View Brochure
Model Family: 25VNA4
Efficiency SEER/SEER2: Up to 22 SEER2
Efficiency EER/EER2: Up to 14 EER2
Efficiency HSPF/HSPF2: Up to 10.5 HSPF2
Energy Star Rated: Energy Star®
Sound Level: Quiet operation
Refrigerant Type: Puron®
Compressor: Variable Speed Compressor
Factory Warranty Parts: 10-year Parts Limited Warranty
Factory Warranty Compressor: 10 year limited warranty on compressor
Manufacturer's Stated Benefits:
10-year unit replacement limited warranty
Greenspeed intelligence
Quiet Mode feature enables homeowners to cap sound levels at 69 dBA
Advanced humidity control - Can remove up to 400% more moisture than standard systems2
Over-the-air software update capabilities
Bluetooth® connectivity for enhanced service & diagnostics
Compressor sound blanket and Silencer System II™ design
Filter drier system protection from moisture and contaminants
WeatherArmor™ Ultra protection for durability
Up to 50% quieter than our nearest competitor